Go to top of page
Visiting the doctor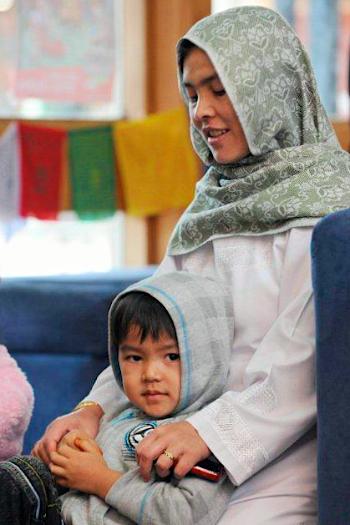 "Miss Polly had a dolly who was sick, sick, sick . . .
So she rang for the doctor to come quick, quick, quick."
Sometimes children can become ill very quickly and there is a quick rush to the doctor or the hospital. Other times it will be a planned visit – maybe for a check-up. When it is a planned visit you can talk to your child about what will happen at the doctor. Talk to them about the different people they will see at the surgery. Will there be a doctor, a nurse and other patients?
We are going to see Doctor Bob after lunch today. When we get there we'll have to wait in the waiting room until they call your name.
You're five now! We will have to go to the doctor to have your immunisations before you start school.
Once you get to the doctor's surgery remind your child about why they are there and what will happen. They may have forgotten what will happen and it might cause them to become anxious.
The nurse is going to check your eyes. She will put a patch on one eye and then the other.
You have grown so big. We are going to see how tall you are and how much you weigh.
Skills this activity improves
Why does this matter?

Talking to your child about their trip to the doctor helps them to predict what will happen when they get there. As you talk about what will happen your child will be developing language to describe what is happening and the different routines at the doctor's surgery.

A visit to the doctor helps children to explore the different language and ways we can measure. During the visit they might hear language about weight, height or distance.
What does this lead to?

As children explore different routines they are learning to make predictions and to sequence - when things will happen and in what order. When you talk to your child about the trip to the doctor- when it will happen and what will happen - you are helping them learn to plan and organise their time.

By talking about the trip to the doctor your child is developing a rich vocabulary that they can use to describe what they see, hear or experience. As their language and vocabulary increases they are able to hold conversations with a wider range of people. They will be able to share what they have seen and experienced even if the other person was not there.
Language to use

Arm, leg, body, head, eyes, ears, throat, tummy
Appointment, check-up, time, booking, waiting, examination
Surgery, waiting room, doctor's room, reception desk
Eye chart, stethoscope, audiometer, eye patch, needle, injection, thermometer
Temperature, weight, height, vision, hearing
Desk, chair, couch, screen
Questions to use

Where will the eye patch go?
What will the doctor use to check your hearing?
How tall are you?
Why do we sit in the waiting room?
What is the doctor doing?
Useful tips

To find out what immunisations or health checks are due, look in your child's health record or blue book.
If your child is anxious about going to the doctor, borrow stories from the library before the visit.
Remember to talk to your child in your home language.
More ideas

Make a doctor's surgery at home.
Variation by age

Birth to two year olds

Sing songs about going to the doctor.
Read stories about visiting the doctor.
Borrow puzzles about doctors from the toy library.

Three to five year olds

Sing songs about going to the doctor.
Read stories about visiting the doctor.
Borrow puzzles about doctors from the toy library.
Make your own storybooks about the trip to the doctor.
Mark on the calendar when you are going to the doctor. Mark off the days as they go by.

Questions to ask

Where does it hurt?
Who is sick?
Do you need a bandaid?

Questions to ask

What time are we going to the doctor?
Where does it hurt?
Who is sick?
Do you need a bandaid?

Language to use

Eye chart, stethoscope, audiometer, eye patch, needle, injection, thermometer
Arm, leg, body, head, eyes, ears, throat, tummy

Language to use

Eye chart, stethoscope, audiometer, eye patch, needle, injection, thermometer
Arm, leg, body, head, eyes, ears, throat, tummy