The Music Education Strategy 2019 to 2029 (PDF 1.3MB) sets out South Australia's vision that all children and young people have access to high-quality music education that is valued and inspires learning.
Dynamic music education is recognised for many benefits, it:
develops thinking and learning skills
lifts literacy and numeracy standards
builds social inclusion and enhances wellbeing.
Early exposure to music activates social, behavioural and academic benefits that continue throughout a child's education.
This strategy reinforces the overall commitment to the role of music in a world-class education. Watch our music education strategy video.
Music Education Strategy video transcript

One, two, here we go.

Music education in schools is so important. It sets the foundation for cognitive development for every other piece of learning that a student does, but it also helps them socially so that they have that feeling of connection within the school and within their community, so it has so many impacts in so many different ways.

It's something that also gives back for the rest of a child's life.

If they develop through Music Learning all of this cognitive enhancement, they then take that into adulthood and they take that into their jobs and their families and their relationships.

For everybody to engage in Music Learning is to engage with music and the more music that's played around the house, the more music that's played in your classroom for different activities and the way that you respond as an adult and as a role model, this goes for parents, teachers, is going to have a flow on effect to the children.

If you're just looking for a pulse in music, you might be clapping along with it, you might be singing along with the music, you might be dancing, but if your relationship with music is positive then that is going to flow on to the children as well.

The Music Education Strategy has been really important in our school. We believe that music is really important in the early years because of a number of reasons such as the children learning to keep a beat, which has been found to increase their ability to learn literacy, reading, and writing when they get to school.

It is really important that all students have access to an equal education and if we're not offering music and equal opportunity to access music then we're not offering equal education and music is such an important tool in development and in making connections with life.

I like that you can make different sounds and how the sounds can go together to make wonderful melodies.

For some children who might be non-verbal or have limited language or not be able to access other parts of the curriculum, they can really get a lot of enjoyment and engagement and be on the same level as their peers.

Music just enables them to be able to show a different side of them and I think through music and through lessons that I've that I've seen, that I've been a part of, being able to express themselves in ways that that they might not have shown in the classroom or outside in the yard, for example.

One of the things that I'm enjoying watching at the moment is the upskilling of teachers because we're capacity building them to deliver great music education. Being able to master something they've never been able to do before, and in many cases have been frightened to do before, is so enriching and so wonderful to watch and it changes a teacher's life.

I think that the Music Education Strategy is doing a great job at helping to upskill classroom teachers.

I think a lot of it is just removing some of the stigma around music, that it's only for the elite specialist trained people, it's not that at all. It doesn't need to be complex. You don't need to be a musician. You don't need to be a performer to do it.

I love the idea that classroom teachers are now going to be immersed with this fantastic program. I think that incorporating music into all our learning is fundamental to students. I try and incorporate all types of music for calming and they might get up and dance to the session, not just playing music but they can get up and move and sing along.

The future of music education in South Australia is probably the most exciting thing for me because if all of these pieces of the puzzle come together - we're upskilling teachers, we're developing resources, we're changing programs, we're changing and shifting to music education's not just for those children that are interested or show a talent for it but it's for every child. In 10 years' time we're going to see an incredible change. It's going to be embedded in the education program and it's going to be something that is sustainable, and we can actually start to see the true benefits of music education across the system, and we haven't seen that in Australia anywhere yet so South Australia's right on that edge of what is possible in music education in a whole system.

If you don't have music, you'll live a plain life.

End of transcript.
Read more about the strategy's key initiatives and what they mean for South Australia and for our stakeholders (PDF 448KB).
Quality music education framework
To create a high-quality learning experience, our goal is to support everyone involved in music education to make the best decisions for children and young people in South Australia.
The music education framework (PDF 3MB) focuses on 5 qualities of high-quality music education. These 5 qualities are value, access, continuum, connections and achievement and must be consistently present for music education to flourish and grow.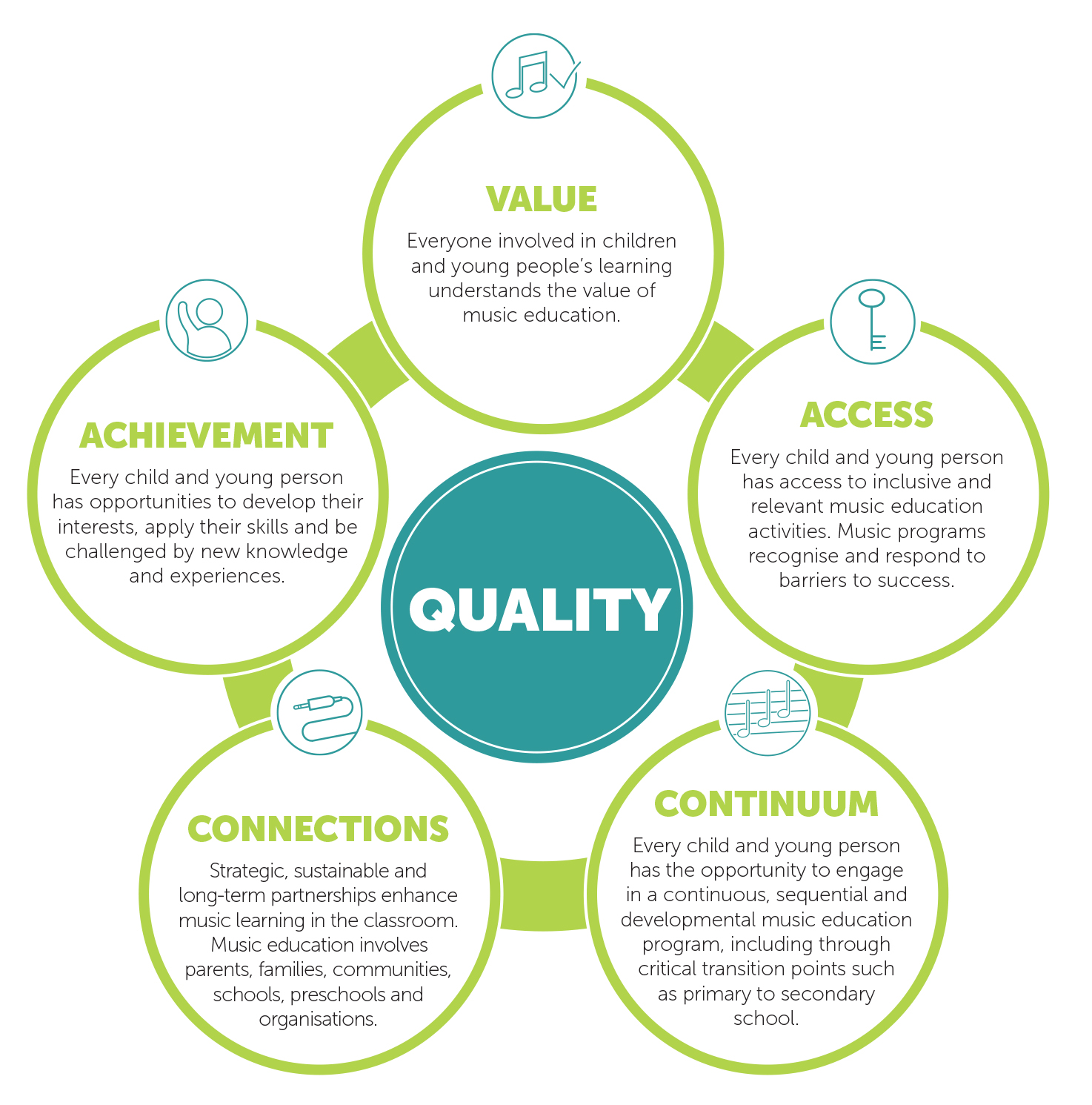 The framework:
defines characteristics for quality music education
provides clarity and guidance
describes decision-making principles
describes best-practice
emphasises co-design and partnerships
highlights the need to evaluate and monitor music education outcomes for continued improvement.
Quality music education programs should be established, developed, enhanced and continuously improved. Everyone can use this framework to inform their thinking and decision-making around music education.
To help you plan your music program and track your progress an action template (Word 129KB) and information poster (PDF 238KB) has been developed for everyone to use.
Areas of action
The current priorities in the strategy and framework include a deliberate initial focus on early years and primary education. This is where music learning has the most impact on student development. Focusing on early and primary years also supports one of the key goals of the strategy, which is to build the value of music education. Ensuring children and young people have access to quality music education that starts early, highlights its value with students and families, which will increase demand for quality music education over an ongoing education.
To promote this, some of the key areas identified for action include:
upskilling non-specialist teachers to improve the delivery of general classroom music education by providing professional development
exploring opportunities to elevate music in tertiary and pre-service training for early years and primary teachers
providing information to help students identify career and higher music education opportunities
providing curriculum and pedagogy resources for early years and primary schools, including a package for all primary schools, and tailored resources to support:

Aboriginal learners
learners in rural, remote and regional areas
learners with disability.
Music Innovation Fund
Round 5 of the Music Innovation Fund closed on 22 June 2023. Successful government schools and preschools have now been announced. External organisations who applied will be evaluated soon.
See our round 5 winners.
Past music education fund winners
Round 4 winners were announced in December 2021.
Round 3 winners were announced in February 2021.
Round 2 winners were announced in December 2019.
Round 1 winners were announced in September 2019.