The Music Education Strategy 2019 to 2029 (PDF 1.3MB) sets out South Australia's vision that all children and young people have access to high-quality music education that is valued and inspires learning.
Dynamic music education is recognised for many benefits, it:
develops thinking and learning skills
lifts literacy and numeracy standards
builds social inclusion and enhances wellbeing.
Early exposure to music activates social, behavioural and academic benefits that continue throughout a child's education.
This strategy reinforces the overall commitment to the role of music in a world-class education.
More about the strategy's key initiatives and what they mean for South Australia and for our stakeholders (PDF 448KB).
Quality music education framework
To create a world-class learning experience, our goal is to support everyone involved in music education to make the best decisions for children and young people in South Australia.
The music education framework (PDF 3MB) focuses on 5 qualities of world-class music education. These 5 qualities are value, access, continuum, connections and achievement and must be consistently present for music education to flourish and grow.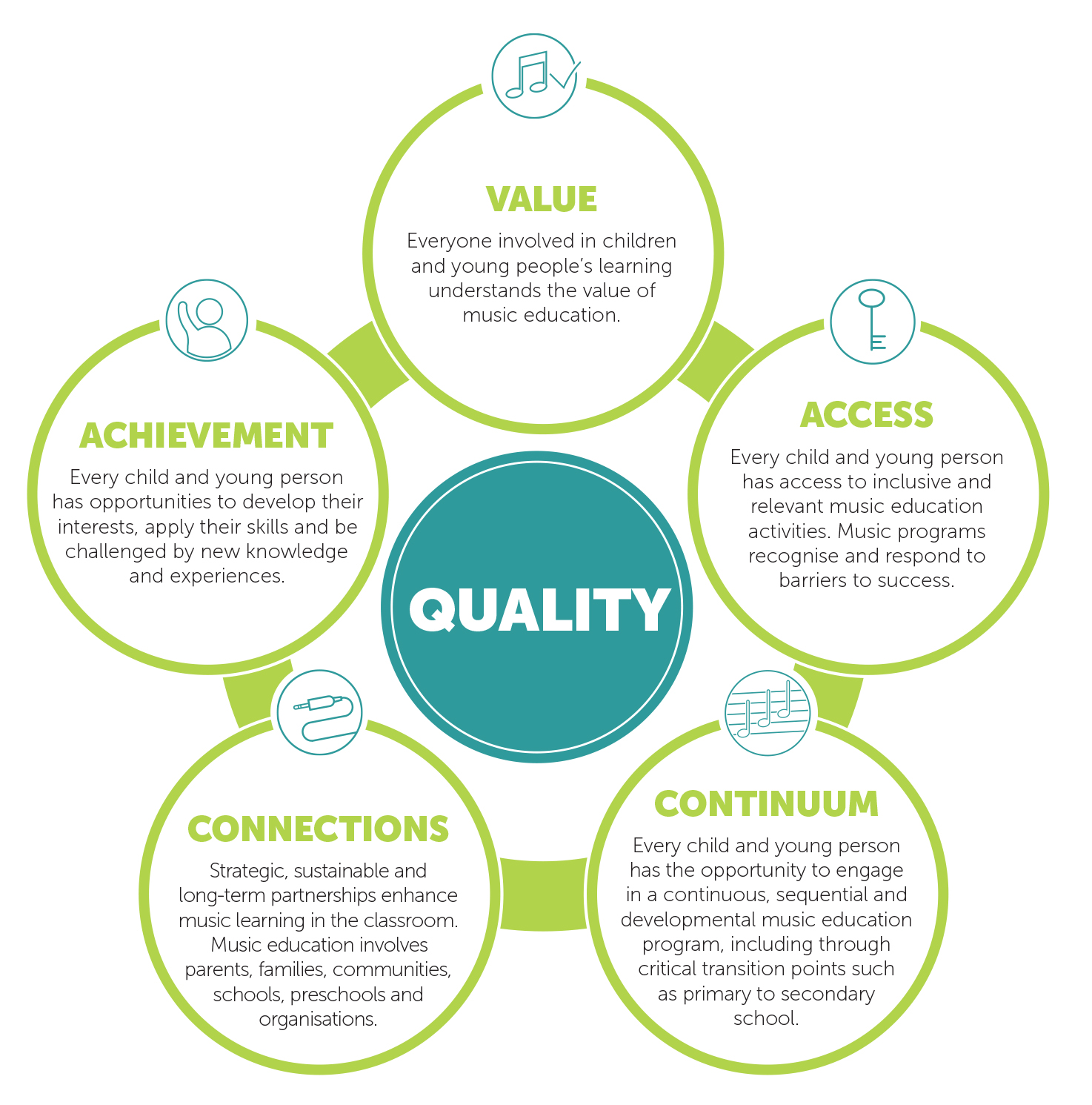 The framework:
defines characteristics for quality music education
provides clarity and guidance
describes decision-making principles
describes best-practice
emphasises co-design and partnerships
highlights the need to evaluate and monitor music education outcomes for continued improvement.
Quality music education programs should be established, developed, enhanced and continuously improved. Everyone can use this framework to inform their thinking and decision-making around music education.
To help you plan your music program and track your progress an action template (Word 129KB) and information poster (PDF 238KB) has been developed for everyone to use.
Areas of action
The current priorities in the strategy and framework include a deliberate initial focus on early years and primary education. This is where music learning has the most impact on student development. Focusing on early and primary years also supports one of the key goals of the strategy, which is to build the value of music education. Ensuring children and young people have access to quality music education that starts early, highlights its value with students and families, which will increase demand for quality music education over an ongoing education.
To promote this, some of the key areas identified for action include:
upskilling non-specialist teachers to improve the delivery of general classroom music education by providing professional development
exploring opportunities to elevate music in tertiary and pre-service training for early years and primary teachers
providing information to help students identify career and higher music education opportunities
providing curriculum and pedagogy resources for early years and primary schools, including a package for all primary schools, and tailored resources to support:

Aboriginal learners
learners in rural, remote and regional areas
learners with disability.
Music Innovation Fund – Round 5 now open
Apply for funding to facilitate new opportunities for children and young people to participate in music education.
Around $250,000 is available in round 5.
We want to invest in innovative practices, programs, partnerships and pathways that will increase access to quality music education across South Australia.
The following are eliglble to apply:
government schools and preschools
music and creative industries
music organisations.
How to apply
To apply, complete the application form online.
When preparing your application, refer to the framework (PDF 2 MB) and consider how your application meets the 5 key qualities - value, access, continuum, connections and achievement. Case studies included within the framework provide valuable ideas.
Closing date: Thursday, 22 June 2023
Past music education fund winners
Round 4 winners were announced in December 2021
Round 3 winners were announced in February 2021.
Round 2 winners were announced in December 2019.
Round 1 winners were announced in September 2019.